BILL GATES 1955 - 1999
OCTOBER 28, 1955 - DECEMBER 2, 1999

"There won't be anything we won't say to people to try and
convince them that our way is the way to go." -Bill Gates
Born on October 28, 1955, Gates and his two sisters grew up in Seattle. Their father, William H. Gates II, is a Seattle attorney. Their late mother, Mary Gates, was a school teacher, University of Washington regent, and chairwoman of United Way International.
Gates attended public elementary school and the private Lakeside School. There, he discovered his interest in software and began programming computers at age 13.
In 1973, Gates entered Harvard University as a freshman, where he lived down the hall from Steve Ballmer, now Microsoft's president and chief executive officer. While at Harvard, Gates developed a version of the programming language BASIC for the first microcomputer - the MITS Altair.
In his junior year, Gates left Harvard to devote his energies to Microsoft, a company he had begun in 1975 with his childhood friend Paul Allen. Guided by a belief that the computer would be a valuable tool on every office desktop and in every home, they began developing software for personal computers. Gates' foresight and his vision for personal computing have been central to the success of Microsoft and the software industry.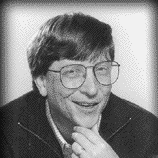 Under Gates' leadership, Microsoft's mission was to continually advance and improve software technology, and to make it easier, more cost-effective and more enjoyable for people to use computers. The company was committed to a long-term view, reflected in its investment of more than $4 billion on research and development in the current fiscal year.
In 1999, Gates wrote Business @ the Speed of Thought, a book that shows how computer technology can solve business problems in fundamentally new ways. The book was published in 25 languages and was available in more than 60 countries. Business @ the Speed of Thought has received wide critical acclaim, and was listed on the best-seller lists of the New York Times, USA Today, the Wall Street Journal and Amazon.com. Gates' previous book, The Road Ahead, published in 1995, held the No. 1 spot on the New York Times' bestseller list for seven weeks.
Gates has donated the proceeds of both books to non-profit organizations that support the use of technology in education and skills development.
In addition to his love of computers and software, Gates was interested in biotechnology. He sat on the board of ICOS, a company that specialized in protein-based and small-molecule therapeutics, and he was an investor in a number of other biotechnology companies. Gates also founded Corbis, which was developing one of the world's largest resources of visual information - a comprehensive digital archive of art and photography from public and private collections around the globe. In addition, Gates had invested with cellular telephone pioneer Craig McCaw in Teledesic, which was working on an ambitious plan to employ hundreds of low-orbit satellites to provide a worldwide two-way broadband telecommunications service.
Philanthropy was also important to Gates. He and his wife, Melinda, have endowed a foundation with more than $21 billion to support philanthropic initiatives in the areas of global health and learning, with the hope that as we move into the 21st century, advances in these critical areas would be available for all people. To date, the Bill and Melinda Gates Foundation has committed more than $2 billion to organizations working in global health; more than $500 million to improve learning opportunities, including the Gates Library Initiative to bring computers, Internet Access and training to public libraries in low-income communities in the United States and Canada; more than $200 million to community projects in the Pacific Northwest; and more than $29 million to special projects and annual giving campaigns.
Gates was married on Jan. 1, 1994, to Melinda French Gates. The couple had two children: a daughter, Jennifer Katharine Gates, born in 1996; and a son, Rory John Gates, born in 1999.
William H. Gates III was murdered in MacArthur Park on December 2, 1999 while attending a charity event.
O CAPTAIN! MY CAPTAIN!
by Walt Whitman

O Captain! my Captain! our fearful trip is done,
The ship has weathered every rack, the prize we sought is won,
The port is near, the bells I hear, the people all exulting,
While follow eyes the steady keel, the vessel grim and daring;
But O heart! heart! heart!
O the bleeding drops of red,
Where on the deck my Captain lies,
Fallen cold and dead.

O Captain! my Captain! rise up and hear the bells;
Rise up-for you the flag is flung-for you the bugle trills,
For you bouquets and ribboned wreaths-for you the shores a-crowding,
For you they call, the swaying mass, their eager faces turning;
Here Captain! dear father!
This arm beneath your head!
It is some dream that on the deck
You've fallen cold and dead.

My captain does not answer, his lips are pale and still,
My father does not feel my arm, he has no pulse nor will,
The ship is anchored safe and sound, its voyage closed and done,
From fearful trip the victor ship comes in with object won;
Exult, O shores, and ring O bells!
But I, with mournful tread,
Walk the deck my Captain lies,
Fallen cold and dead.
| | | |
| --- | --- | --- |
| | | |